10 Best Free Screen Video Recorder Windows 10:- Screen recording has always been a typical task. Who doesn't want to record the screen of their computer? Actually everyone. People ask me every time how to record your screen on windows 10? These days every individual is a creator especially, youth who is busy on youtube, gaming, TikTok, etc.
So recording the Screen of the computer is very important and for this, I have presented the best free screen recorder. Thanks to the developers and makers for providing them for free of cost.
10 Best Free Screen Video Recorder Windows 10
1. Icecream Screen Recorder
Icecream Screen Recorder is software from Icecream Apps, this is completely free to download and capture screen. The Icecream Screen Recorder supports almost all the versions of windows starting from Windows XP to Windows 10. The software has amazing features you can easily focus on what you want.
It has a drawing panel that will help you add a 'special' touch to the screenshot or recording of your content. Other features include hotkey support, audio settings, the screenshot of selected URL, clipboard feature, project history, etc. are some of the main features of Icecream Screen Recorder.
2. ActivePresenter Screen Recorder
ActivePresenter is an amazing software developed by Atomi Systems, especially for those who want to make tutorials related to education, etc. This software focuses on making screenshots and recordings more interactive than other software which is very useful while explaining different topics.
This tool features interactive elements like callouts, voiceovers, graphics, etc.  The tool also has features that can be used for corporate training as well.
3. CamStudio Video Recorder
CamStudio is a widely used tool for screen recording and capturing. The software is the most downloaded among all the screen recorders. The CamStudio offers a very simple user interface with a few features.
The Software offers multiple options for recording like, if you do not want sound in your video then you can simply uncheck the soundbar.
4. EZVID – Free Screen Video Recorder
EZVID is an awesome software for screen-recording, especially for YouTubers. If you are a YouTuber and want to upload your video directly then this tool is the best for you. The best thing about EZVID is that it comes with a built-in video editor.
This means you have don't need to have two software separately. The tools EZVID has are mostly free and some you can get by purchasing. Speed control, speech synthesis, etc are the best features of this tool.
5. Jing – Best Free Screen Recorder
Jing is software developed by TechSmith. It is small but is a very effective tool for capturing and recording. The best part of jing is that you can set up hotkeys and make things fast.
It is a smaller version of Snagit a premium paid software. Jing does not have any high-quality features but it lets you plan, record, and share videos quickly. This software is not for you if want to record a big screen.
6. Webinaria Video Recorder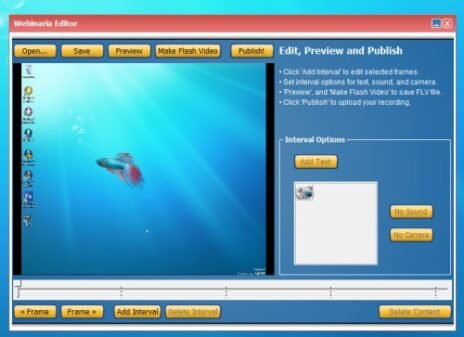 Webinaria is a free open source software for recording and capturing the screen. By using this Software, you will be able to create Flash videos of your computer as well as add your own voice using the record feature. This tool also has features like the intersection of text in the videos. Like most of the tool, it also can let you set certain hotkeys.
7. Rylstim Screen Recorder
Rylstim Screen Recorder is the simplest tool to record the insides of your PC screen. You have to simply install the tool, set the codec, frame rate and location and you are good to go.
Rylstim Screen Recorder will give you amazing results once you have finished this recording process. The software also comes in a portable version which you can also download. (Best Free Screen Video Recorder Windows 10)
8. Screenr – Best Screen Recorder
It is the eighth and it does not like the tools mentioned above as it is a bit different. Screenr has nothing to do with PC or installation, but it works based on your web browser. The only thing you have to note that Java has been installed on your computer. For using go to screenr.com and start your screen recording it is as simple as that.
9. Filmora Scrn – Best Free Screen Video Recorder

Filmora is a good screen recorder as it provides a very simple interface yet a nice experience while recording the screen. There are 3 kinds of screen recording for selection, including Full Screen, Custom, and Target Window.
If you need to record from a microphone or record computer system audio it gives all options. Even you can record games through this powerful screen recorder at 60fps and the best part of this software is that it provides a video editor with it.
10. Windows 10 Free screen recorder

Free screen recorder from windows is the best game recording app. This application is only available in win 10. Windows 10 users can use it by simply tapping Windows+G Key. This a very amazing application as it works wonderfully, in this you will get a very simple interface from where you could record your screen in no time.
Conclusion
These are some of the best tools available internet for free grab any one of them and you are good to go. These tools are amazing and every tool has its own speciality. Simply install on your computer and start capturing the screen of your computer.
What is your view on the Best Free Screen Video Recorder?… comment in the comment section down below.
See Next: Intel Processors Comparison – Pentium, Atom, i3, i5, i7, i9, Xeon
See Next: Kirin 970 vs Snapdragon 835 | Which is better?