Top 20 Best Offline Android Games Under 100MB:- Games are always exciting and interesting to play here are the offline android games under 100Mb for you to enjoy and play.
There are so many android games on the android play store but it is tough to choose the best game of all. These games are amazing and you can spend hours playing these games. If you love playing games then you must play these games once.
Best Offline Android Games Under 100MB
1) MTB DownHill: Multiplayer
MTB DownHill is a mountain bicycle racing game. This game has more than 20 Maps including 4 different weather conditions Snowy, Rainy, Sunny, and Fog conditions.
The graphics of the game is amazing, you can race on the mountain with realistic bike physics. You can also Develop and customize your bike with the money you earn in the game. It is the best downhill game in the play store and if you like racing games then you will like this game.
2) Street Racing 3D
Street Racing 3D is a car racing game. In this Street themed asphalt racing, you can drive 10+ extreme cars in High-speed racing in street.
You can also perform Real drift for speed, paint the car with your favorite color, and collect more and more coins and diamonds by playing and winning races.
The controls of the game are easy, tilt your phone according to the game. This game also has Beautiful background music which you will like.
3) Swordigo
Swordigo is an adventure role-playing game. This game has a very interesting story, and the gameplay is also very addicting. This is my personal favorite game and you will also love playing it.
In-game Explore a magical realm of dungeons, towns, treasures, and devious monsters. Gain experience and level up your character. Find powerful weapons, items, and spells to defeat your enemies.
Venture into gloomy caves and dungeons to discover powerful hidden swords. The game has precise touch controls optimized for smartphones and tablets, you can also customize the controls to your preference.
4) Ninja Fighting Spree
Ninja Fighting Spree is an action-adventure game. This game is unique, with its easy controls and challenging mission in a 3d environment this game is very addictive. This game features smooth gameplay with different weapons to fight.
It's the continuation of Ninja War Lord. It's the all-new epic story of ninja warriors. As a Ninja Fighter, you have won the fight against evil. Experience the most addictive ninja activity game Ninja War Hero.
Survive the most hazardous difficulties that come in your direction. Ninja War Hero is an action battle game. It's a hero test to deal with a mission in another city in the Far East if Japan covert to discover the ruffians, battle them, and execute them all.
5) Ocean Is Home: Survival Island
Ocean Is Home: Survival Island is an open-world survival game. In this game, you live on a huge island where you have full freedom to build a house, craft items.
Ocean Is Home is Full of freedom, explore the huge island, Build your own house, Craft items, and weapons to hunt and survive on the island, the Advanced system of player skills, Different kinds of transport. If you love open-world games then you can download this game too.
6) Metal Soldiers
Metal Soldiers is a 2d shooter action game. In this game, you have to blow your enemies with guns and grenades. In the game, there are different characters to choose from, Lots of enemies to fight, and many classic weapon designs. The gameplay is amazing. This game is similar to the super hit Metal Gear Solid franchise.
7) Last Day On Earth: Survival
Last Day on Earth is an MMORPG zombie shooter survival and strategy game. The survival shooter Last Day on Earth is set in a post-apocalyptic world in 2027 the world saw an outbreak of an unknown infection that destroyed almost all the human race.
All those dead started turning into zombies and those few survivors that have resistance in their blood are trying to survive on the ruins of the once great world.
And now the survival of your character is only in your power. Keep an eye on your character's life stats such as hunger and thirst, collect valuable resources for crafting, create weapons and transport.
8) Jetpack Joyride
Jetpack Joyride is an action arcade game. This a very interesting game in this game you have to control action hero Barry. There are so many cool things in this game, you should try this game once.
In the game you have to Run & fly as Barry, the charismatic and ambitious hero, who invents high-tech jetpacks and gadgets. Meet Lara, your beautiful but tough as nails sidekick.
All new art style and 3D quality graphics that beautifully capture the vibrancy of different places.
9) Dead Target: Zombie
Dead Target: Zombie is also an interesting first-person shooting game. This is a survival game in which you have to complete missions by killing all the zombies.
The game is set in the year 2040, World War III struck, and the country's frontiers changed. Modern warfare advanced to a new era after the Minister of Defense signed a contract with CS Corporation to perform project Dead Target.
Inject prisoners with the virus and transform them into super evil combat killers. However, CS threatened to trigger a zombie outbreak if the president did not follow their orders. The zombie apocalypse began.
Shooting zombies in with epic weapons, Upgrade weapons and gear to face the upcoming zombie waves, Experience 3D shooting as a zombie hunter, Slay zombies of all types when you set your nerve to the highest level.
10) Into The Dead
Into The Dead is a survival action game. This game throws you into the gruesome world of the zombie apocalypse, where there are no second chances.  Stay alive, keep moving as fast as you can, and protect yourself by any means necessary.
The game features Intense gameplay with stunning visuals & sound depicting a grim zombie apocalypse, Unlock an arsenal of powerful weapons and perks to help you stay alive, Missions and mini-goals provide constant challenges to overcome, Challenge your friends to beat your high scores. This is the "best Offline Android Games Under 100MB".
11) Critical Ops
Critical Ops is a fast-paced FPS that will test your reflexes and tactical skill. Experience the thrill of modern terrorist warfare as you fight a critical strike operation as a counter-terrorist or aim to cause destruction as a terrorist.
Fight for domination alongside your friends, or show the world your skill by leading the individual scoreboard. Join the competitive combat in the most skill-based portable FPS.
The game currently features 2 game modes: Defuse and Team Deathmatch. (Best Offline Android Games Under 100MB)
12) Beach Buggy Racing
Drive into an action-packed, surprise-filled world of off-road kart racing mayhem. Race against a field of rival drivers, each with unique personalities and special abilities.
Build a collection of powerups, like Dodgeball Frenzy, Fireball, and Oil Slick. Unlock and upgrade a variety of cars, from dune buggies to monster trucks.
Test your skills in 6 different game modes on 15 imaginative 3D race tracks, against a pack of tropical-loving rivals with a serious case of road rage.
13) Miami Crime Simulator 2
Miami Crime Simulator 2 is an open-world game where you can do anything. In-game Cops and gangsters in this city don't like you and will try to kill you at sight. Collect money for the new weapon and stay on the warpath.
Fire scoundrels from a grenade launcher, try out new explosive and electro weaponry. Find a tank and blow up all to hell, or get a helicopter and destroy everything from above.
14) Craz-Taxi City Rush
Drive mad in SEGA's all-new car racing game Crazi Taxi. Race through the city in your car to deliver your passengers on time the crazier you drive the higher your rewards.
Your car, your rules – speed, drift, whip around corners, weave through traffic, up ramps, and into the air to race the clock.
Build and fully customize a fun collection of modern and classic cabs ready to race. Drive your car and passengers maddly across a huge and expanding 3D city downtown, uptown, on the beach, and more.
15) Transformers: Forged to Fight
Join Optimus Prime, Megatron, Bumblebee, Waspinator, Rhinox, Grimlock, Soundwave, and many more of your favourite bots in the battle for supremacy where Transformers universes collide.
This exciting action-fighting RPG brings the heroic storytelling and spectacular action from over 30 years of Transformers history to your mobile device!
16) Mission Impossible RogueNation
Play as the CIA's finest or the KGB's best in the new 3D multiplayer action-based adventure game, The Man from U.N.C.L.E. – Mission: Berlin. Choose your spy and complete the Top Secret missions. Once a mission is complete, use points to upgrade your spy's abilities then record and share gameplay.
This game has been designed for fast devices. Graphics quality settings can be changed in the settings menu.
17) World Cricket Championship
World Cricket Championship with high-quality graphics, professional commentary, and a team that you create with your friends.
Have no doubt about the skills of your players.  They are armed with a wide range of cricket shots like nowhere else.
Watch your massive sixes fly out in Slow-mo… feel the glory of the moment.
18) Overtake: Traffic Racing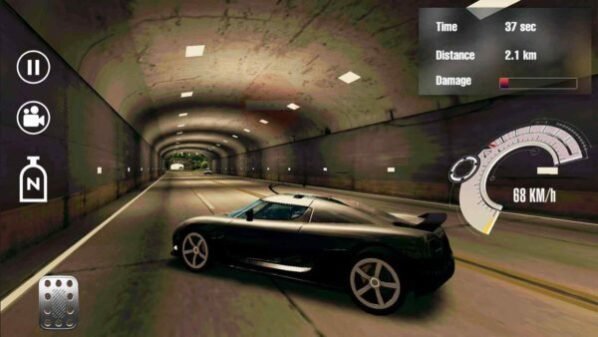 Try racing your car on the highway and freeway. Whether you are a driver, racer, or rider you will enjoy this car racing game, complete with realistic traffic. Strap into your cockpit and race against racers from all around the world with online ranking battles
Match and exceed their speed to gain the upper rank. Weave in and out and around traffic with Overtake. You need to have a sense of absolute car control and speed to safely navigate your car around traffic-laden highways.
Overtake different stages of the world tour. Receive cash or cards as a reward to buy new cars or upgrade your cars.
19) Sniper 3D Gun Shooter
Sniper 3D Gun Shooter includes racing against time, exploding helicopters in American cities, killing zombies, and quite a few shots in slow motion.
But can you solve the puzzle, save the victims, and kill only the right target hidden in the crowd? Can you stop the virus from spreading?
20) Traffic Rider
Another masterpiece from the creators of Traffic Racer. This time, you are behind the wheels of a motorbike in a much more detailed gaming experience, but also retaining the old-school fun and simplicity.
Traffic Rider takes the endless racing genre to a whole new level by adding a full career mode, first-person view perspective, better graphics, and real-life recorded bike sounds.
The essence of smooth arcade racing is still there but in the shell of the next generation. Ride your bike in the endless highway roads overtaking the traffic, and upgrade and buy new bikes to beat the missions in career mode.
What are your views on the Top 20 Best Offline Android Games Under 100MB?…Comment in the comment section down below.
See Next: 13 Amazing Android Games Under 10MB
See Next: 10 Best Android Games Under 20MB