Top 10 Best Android Adventure Games:- Adventure games are my favorite and most exciting, as these games depict a great storyline.
All the other game categories are good but the adventure category is the best. Adventure games provide long hours of gameplay with everything a game should have.
Here I have presented the best free adventure games for android which will pass your time for hours.
Best Android Adventure Games
10) Alto's Adventure
Join Alto and his friends as they embark on an endless snowboarding odyssey. Journey across the beautiful alpine hills of their native wilderness, through neighboring villages, ancient woodlands, and long-abandoned ruins.
Along the way, you'll rescue runaway llamas, grind rooftops, leap over terrifying chasms and outwit the mountain elders – all while braving the ever-changing elements and passage of time upon the mountain.
Features:
Fluid, graceful and exhilarating physics-based gameplay.
Procedurally generated terrain based on real-world snowboarding.
Fully dynamic lighting and weather effects, including thunderstorms, blizzards, fog, rainbows, shooting stars, and more.
Easy to learn, difficult to master one button trick system.
Chain together combos to maximize points and speed.
Test your skills with 180 handcrafted goals.
Discover six unique snowboarders, each with their own special attributes and abilities.
Challenge your friends. Compete for the best high score, best distance, and best trick combo!
Acquire the wingsuit from Izel's workshop for entirely new gameplay dynamic.
Beautifully minimalist and evocative visual design.
Original music and handcrafted audio for an ambient and immersive experience
9) Lara Croft Go
Lara Croft and the Guardian of Light, the acclaimed fast-paced action-adventure game set in the Tomb Raider world. Venture deep into the jungles of Central America in search of the Mirror of Smoke, a powerful artifact from a lost age. Whoever wields this item has the power to rid the world of light, and hold the future of humanity in their hands. But now fate hangs in the balance, with the Mirror in the possession of Xolotl, the God of Darkness – Lara and Totec, the Guardian of the Mirror, only have until sunrise to defeat him, or the world will be plunged into an age of darkness.
KEY FEATURES
Fast-Paced Gameplay
Co-Op Multiplayer
Epic Boss Battles
Action-based Puzzle Solving
Awesome Unlockable Weapons
Take on Xolotl and his armies of creatures with an all-new intuitive and accessible touch-screen control system, letting you explore the world and solve the puzzles at your own pace. Jump in as Lara Croft or, for the first time in the series, play in co-op with another Android player joining as Totec.
8) Never Alone
Never Alone (Kisima Ingitchuna) is an atmospheric puzzle platformer developed in collaboration with the Iñupiat, an Alaska Native people, drawn from a traditional story that has been shared across the generations. Experience the epic journey of Nuna and Fox as they search for the source of an eternal blizzard that threatens the survival of everything they have ever known.
Guide both characters as you trek through frozen tundra, leap across treacherous ice floes, swim through underwater caverns and face enemies both strange and familiar.
You'll explore awe-inspiring environments, perform heroic deeds and meet legendary characters from Iñupiaq stories — all narrated by a master storyteller in the spoken Iñupiaq language.
7) The Wolf Among Us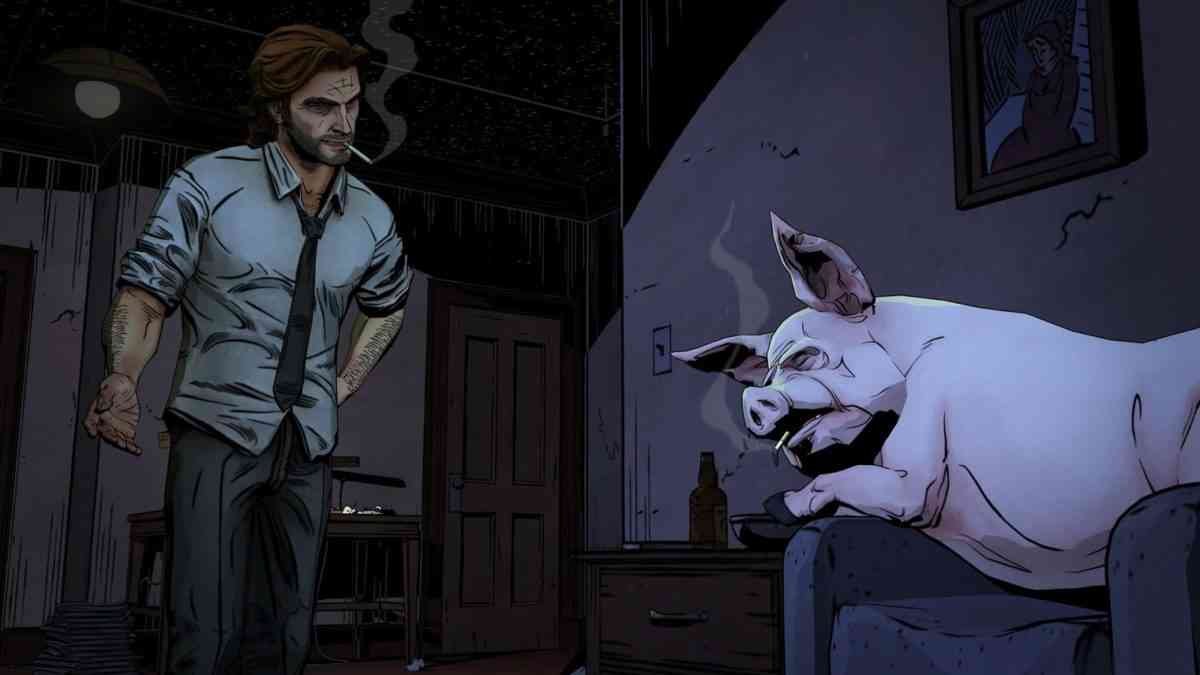 The Wolf Among Us is a five-part from the creators of The Walking Dead, winner of over 90 Game of the Year awards. Fairytale characters are being murdered in this hard-boiled, violent and mature thriller based on the award-winning Fables comic book series (DC Comics/Vertigo) by Bill Willingham. As Bigby Wolf – THE big bad wolf – you will discover that a brutal, bloody murder is just a taste of things to come in a game series where your every decision can have enormous consequences.
6) Grand Theft Auto San Andreas
Rockstar Games brings its biggest release to mobile yet with a vast open-world covering the state of San Andreas and its three major cities – Los Santos, San Fierro, and Las Venturas – with enhanced visual fidelity and over 70 hours of gameplay.
Grand Theft Auto: San Andreas features: 
Remastered, high-resolution graphics built specifically for mobile including lighting enhancements, an enriched color palette and improved character models.
Cloud save support for playing across all your mobile devices for Rockstar Social Club Members.
Dual analog stick controls for full camera and movement control.
Three different control schemes and customizable controls with contextual options to display buttons only when you need them.
Compatible with the MoGa Wireless Game Controllers and select Bluetooth and USB gamepads.
Integrated with Immersion tactile effects.
Tailor your visual experience with adjustable graphic settings.
5) Brother A Tale of Two Brothers

A man, clinging to life. His two sons, desperate to cure their ailing father, are left with but one option. They must set out on a journey to find and bring back the "Water of Life" as they come to rely on one another to survive. One must be strong where the other is weak, brave where the other is fearful, they must be… Brothers.
Guide two brothers, Naia and Naiee, on an epic fairy tale journey using specially designed, dual virtual joysticks.
Control both brothers simultaneously as you experience cooperative play in single-player mode.
Solve puzzles, explore the stunning locations and fight boss battles, using unique qualities of big and little brother each varying in strength, size, and speed.
Experience an emotional story told without words…the narrative above the ordinary
4) Exiles
From the creators of the award-winning Ravensword: Shadowlands comes EXILES, a beautiful Sci-Fi 3D role-playing game that takes place in a distant world.
In the near future, a colony on a distant planet has been driven to isolation and desolation, as a corrupt government tries to enslave it with a lethal virus.
Become one of the Elite Enforcers, and go on various missions that will unravel the secrets behind the plot to enslave the world. Unleash a large arsenal of weapons and items against vicious aliens and mechanized enemies.
Features:
Explorer a huge and open world, full of alien hives, underground temples, and caves.
A large colony with various interior locales.
Choose from 3 different character classes.
Choose a Male or Female Character.
A large variety of weapons to use and upgrade.
Huge Alien creatures to fight.
Mechs and Hoverbikes are available to traverse the massive landscape.
A dark story of government plots and conspiracy.
Real-time Shadows.
Full Night/Day System.
3) Ravensword Shadowland
Ravensword brings unprecedented visuals to the RPG and adventure games genre. Explore a vast and richly detailed world, gather powerful weapons, collect hundreds of items, increase your skills, and follow a deep storyline to solve the mysteries of the Kingdom of Tyreas.
Features: 
Enormous 3d RPG world to explore
First Person and 3rd Person on the fly switching
Gorgeous and realistic scenery
Ragdoll Physics
Original Soundtrack from composer Sean Beeson
Hundreds of items to use
Reflex and precision-based combat with manual blocking and dodging
Various weapon types – Bows, Crossbows, Hammers, Swords, Axes
Flying Mounts
Horses
Tons of enemy types including huge prehistoric creatures.
Lockpicking
Pick Pocketing
Stealth
Magical Runes
Item enhancement
Tons of loot
Plenty of armor upgrades
Mounted combat
Decision-based, multi-part Quests
Reputation and Jail System
2) Batman the telltale series
Enter the fractured psyche of Bruce Wayne and discover the powerful and far-reaching consequences of your choices as the Dark Knight.
In this gritty and violent new story from the award-winning creators of The Walking Dead – A Telltale Games Series, you'll make discoveries that will shatter Bruce Wayne's world and the already fragile stability of a corrupt Gotham City.
Your actions and your choices will determine the fate of Batman.
1) Swordigo
Swordigo is the best adventure game despite being small in size. The gameplay and storyline are the best in the game.
A GREAT ADVENTURE 
Explore a magical realm of dungeons, towns, treasures, and devious monsters.
Gain experience and level up your character.
MAGIC AND SWORDS 
Find powerful weapons, items, and spells to defeat your enemies.
Venture into gloomy caves and dungeons to discover powerful hidden swords.
SIDE-SCROLLER PLATFORMER GAME
Fluid and challenging platforming gameplay designed specifically for mobile devices.
Precise touch controls optimized for smartphones and tablets.
Customize the controls to your preference.
What are your views on Best Android Adventure Games? And what are your favorite games?…comment in the comment section down below.
See Next: 10 Best Android Games for Kids