10 Top PC Games (Windows Games):- Games are always exciting especially when it comes to PC games. Today there are thousands of games available to play on PC and every year more thousand games add to the library.
Today we are going to see the 10 Top PC Games (Windows Games). Among these games, some are released and some are going to release in the coming months.
10 Top PC Games (Windows Games)
10) Monster Hunter: World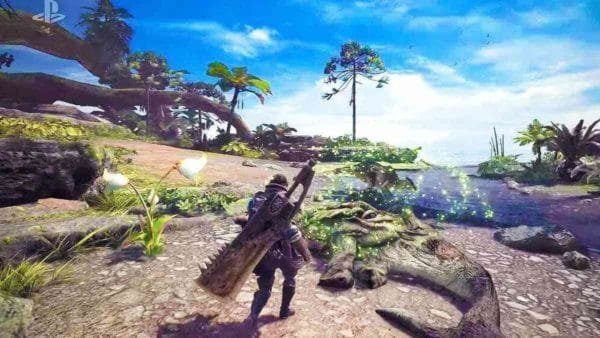 Monster Hunter: World is an action role-playing game developed and published by Capcom. A part of the Monster Hunter franchise, the game was released for PlayStation 4 and Xbox One worldwide in January 2018.
The Microsoft Windows version is scheduled for later in 2018. In Monster Hunter: World, the player takes the role of a Hunter, tasked to hunt down and either kill or trap monsters that roam in one of several environmental spaces.
If successful, the player is rewarded with loot consisting of parts from the monster and other elements that are used to craft weapons and armor, among other equipment.
9) Dynasty Warriors
Dynasty Warriors is a series of hack and slash action video games created by Omega Force and Koei. This is a turn-based strategy Romance of the Three Kingdoms series, based loosely on the Chinese historical text Records of the Three Kingdoms, from which it derives its name in Japanese. It is one of the most successful game series and by 2011, the game sold 18 million copies.
8) The Bard's Tale IV
The Bard's Tale is a fantasy role-playing video game series established by Interplay Productions in the year 1985. Two sequels were released in the 1980s before the series went dormant. In 2004, inXile Entertainment developed and released a spin-off game to the series. The game is built using Unreal Engine 4. The development team used photogrammetry to create textures for 3D objects.
7) Dayz
DayZ is an open-world survival video game by Bohemia Interactive. It is the standalone successor of the mod of the same name. The game was released for Microsoft Windows via early access on Steam in December 2013 and is currently in early alpha testing.
The game places the player in the fictional post-Soviet Republic of Chernarus, where a mysterious plague has turned most of the population into violent zombies. As a survivor, the player must scavenge the world for food, water, weapons, and medicine, while killing or avoiding zombies, and killing, avoiding, or cooperating with other players in an effort to survive the outbreak.
6) Biomutant
Biomutant is an action role-playing video game developed by Swedish developer Experiment 101 and published by THQ Nordic. This game is set in an open world environment and played from a third-person perspective in which the player takes control of a raccoon-like creature in a world filled with mutated animals.
The first thing for the player to do is to customize their own character. The combat system combines melee attacks with long-range shooting. The player can choose between a variety of swords and guns, and combine their power by switching between different weapons during combat.
5) Vampyr
Vampyr is an action role-playing video game developed by Dontnod Entertainment and published by Focus Home Interactive releasing 5 June 2018.
The plot relates how Jonathan Reid, a doctor who has turned into a vampire, comes to terms with his undead condition as he is torn between the Hippocratic Oath and his newfound bloodthirsty nature.
The player is under no obligation to kill to finish the game. Dialogue options can be used for hunting prey to feed on, which replenishes strength and levels up the lead character. Weapons and supernatural abilities are employed while combatting enemies. London serves as a fictionalized semi-open world composed of four districts, which can all be destroyed based on the player's actions.
4) Jurassic World Evolution
Jurassic World Evolution will allow the player to construct a Jurassic World dinosaur theme park with attractions and research facilities much like its predecessor, Jurassic Park: Operation Genesis.
In addition to management and simulation, the game will also feature creature development. The game will feature 30 different dig sites, with each being location for dinosaurs to unlock.
The game will be set on the fictional island of Isla Nublar, previously featured in Jurassic Park and Jurassic World. Other locations will include the surrounding islands of the fictional Las Cinco Muertes Archipelago.
3) Kingdom Come: Deliverance
Kingdom Come: Deliverance is an upcoming action role-playing video game developed by Warhorse Studios and published by Deep Silver. It is set in the medieval Kingdom of Bohemia, an Imperial State of the Holy Roman Empire, with a focus on historically accurate and realistic content.
The game contains an RPG system, allowing the player to customize their skills to take on roles such as a warrior, bard, thief, or their hybrids. Abilities and stats will grow depending on what the player does and says through branched dialogue trees. During conversations, the time a player takes to make a decision is limited and will have an effect on their relationships with others. Reputation will be based on player choices and therefore can bring consequences.
2) Darksiders III
Darksiders III takes place parallel to the events of the previous games in what is described as a dilapidated, war-torn planet Earth. It follows the protagonist Fury, Rider of the Black Horse, sister Horseman of the Apocalypse in her quest to hunt down and destroy the Seven Deadly Sins.
1) Far Cry 5
Far Cry 5 is an action-adventure first-person shooter video game developed by Ubisoft Montreal and published by Ubisoft. It is the eleventh installment and the fifth main title in the Far Cry series.
Similar to its predecessors, Far Cry 5 is an action-adventure first-person shooter set in an open world environment which the player can explore freely on foot or via various vehicles. Unlike previous titles in the series where the player takes on the role of a set character, the game will feature a new character creator, which the player can use to customize their character's appearances, gender, and skin tone.
The game will also feature the old aiming system from other titles which allows players to lean around cover. The player will have a variety of ranged and explosive weapons to fight against enemies, while the game will place a renewed emphasis on close-quarters combat compared to previous Far Cry titles by introducing a wider range of melee weapons.
All these games are extremely fun and exciting to play! However, to get the most fun out of them, a high-end rig will let you play them at extreme frame rates with amazing visuals as well. So, why not check out the MVP's custom PC Builder? They let you make your own build that suits your budget perfectly.
What are your views on 10 Top PC Games (Windows Games)?…comment in the comment section down below.
See Next: 10 Offline Best Android Games Under 50MB