10 Best Android Games for Kids:- These are some of the best android games for kids in 2018. These games are amazing and will busy the kids for hours. These games will even teach kids about many things like the name of animals, alphabet, etc.
The games are educational and enjoyable as well. Try these games once you will them as well as your kids.
Best Android Games for Kids
10) Manuganu
Manuganu is a 3D side-scroller running game, in which you control the boy Manuganu. Unlike other usual running games, Manuganu brings on the Halt feature to avoid swinging rocks, hammers, flames, and other enemies with the right timing.
Another important feature of Manuganu is the ability to switch from "running" mode to rope climbing mode when needed. But be careful! This mode has its own challenges.
9) Learn Shapes for Kids, Toddlers – Educational Game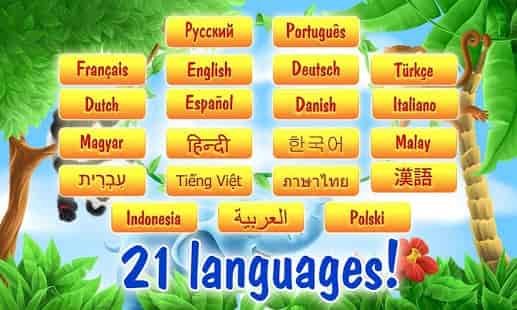 Shapes are one of our educational games for toddlers in which your child can learn shapes and play shape games.
Invite your baby to a fabulous world of shapes for kids to acquire new knowledge and skills. The game teaches to distinguish different geometric shapes and compare shapes for babies with the surrounding objects in real life.
8) Nursery Rhymes, Kids Games, ABC Phonics, Preschool
Hundreds of nursery rhymes, baby songs, stories for kids & games for toddlers, KidloLand has everything for kids under 5 years old. Delight your child with interactive nursery rhymes like Old MacDonald, Twinkle Twinkle Little Star, Wheels on the Bus, the Itsy Bitsy Spider & more preschool & kindergarten rhymes.
7) Food Puzzle For kids
Puzzle for kids series is one of the best fun and educational games for young kids, toddlers, and preschool children. This top free game will help your child develop matching, tactile and fine motor skills while playing and exploring 100 different food wooden textured puzzle shapes.
6) Monster Trucks Game For kids 2
If your kids love all things monster trucks, Then they will love this game. Monster Trucks racing game for young kids and toddlers.
Designed for young children and toddlers between ages 2 to 8 years old, Simple controls to drive the monster trucks along the course. the truck never flips ensuring your child always gets to the finish line.
5) ABC Kids Spelling Game – Spell & Phonics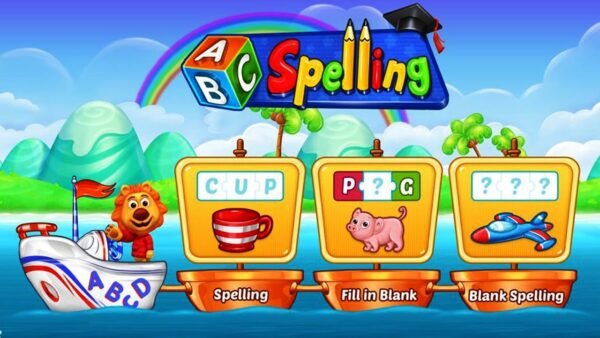 ABC Kids Spelling Game Spell & Phonics helps your kid or toddler to learn to spell in a friendly entertaining way and make learning easy and fun.
Learn letters, spell and phonics includes names of Farm animals, Zoo animals, Wild animals, fruits, various foods, transport vehicles, daily use words, and many everyday objects name that children commonly uses, so level up your preschoolers and kindergartners.
Let's sharpens your child's brain with ABC Kids Spelling and improve visual vocabulary, memorizing skills and increase your child's concentration.
4) Educational Games for kids
Educational Games for Kids offers eight educational games together which is very useful for toddlers, kindergarten kids, and preschool kids.
This game is a lovely and fun way of teaching the shapes, numbers, letters, colors and sounds to the kids. It has been carefully designed and developed for preschool kids at the ages of 2, 3, 4, 5, and 6.
3) Fun Piano For Kids
Kids Piano is the best piano learning app for your kids on Android! This kid piano game is specially designed for kids to play and learn for fun. It will be great for music learning and exploration. Colorful interface and cute animal icons that are eye-catching to kids.
2) Doctor Kids
With the help of this educational game, you can be a doctor and treat kids in a children's hospital. You can make them healthy again and put a smile back on their faces. Kids are counting on you!
Children are coming to the clinic, injured or suffering from various diseases, and they need your help to get better. Once you appoint the little patients to the right doctor's office, you can have fun playing interactive minigames and treat kids in no time.
1) Supermarket -Game for kids
Welcome to the shopping paradise! Explore the supermarket world with many popular mini-games for kids. Help your customers shop and get ready for some fun!
This supermarket has a lot of sections: a cash register, departments for grocery, cheese, and salami, fruits and vegetables, sweets, and toys, a recycling area and others. Do all the necessary tasks and provide superb shopping services to meet your customers' needs.
What are your views on the 10 Best Android Games for Kids?... Comment in the comment section down below.
See Next: 5 Best Android Board Games