10 Best Racing Games For Android Under 100MB:- These are some of the best racing games for android under 100MB that you can download now and pass your time for hours, you will not regret playing them.
10 Best Racing Games For Android Under 100MB
1. Asphalt nitro
Asphalt Nitro brings amazing graphics in a very compressed size which brings gaming to the life. The games feature many race tracks and all the tracks contain beautiful visuals.
The game contains so many different locations from Brazil to China. You can also buy and customize many cars from the game.
The gameplay is very smooth and enjoyable which can easily pass your time for hours. (under 100MB racing games)
2. Beach Buggy Racing
Beach Buggy Racing is an action-packed, surprise-filled world of off-road kart racing mayhem. Race against a field of rival drivers, each with unique personalities and special abilities.
Build a collection of powerups, like Dodgeball Frenzy, Fireball, and Oil Slick. Unlock and upgrade a variety of cars, from dune buggies to monster trucks.
Test your skills in 6 different game modes on 15 imaginative 3D race tracks, against a pack of tropical-loving rivals with a serious case of road rage.
3. Riptide Gp2
Riptide Gp2 Features rocket-powered hydro jets racing around futuristic tracks across a dynamic and interactive water surface, Riptide GP2 delivers a fast, fun, and visually stunning racing experience.
4. Traffic Rider
Another masterpiece from the creators of Traffic Racer. This time, you are behind the wheels of a motorbike in a much more detailed gaming experience, but also retaining the old-school fun and simplicity.
Traffic Rider takes the endless racing genre to a whole new level by adding a full career mode, first-person view perspective, better graphics, and real-life recorded bike sounds.
The essence of smooth arcade racing is still there but in the shell of the next generation. Ride your bike in the endless highway roads overtaking the traffic, upgrade and buy new bikes to beat the missions in career mode.
5. 32 secs: Traffic Rider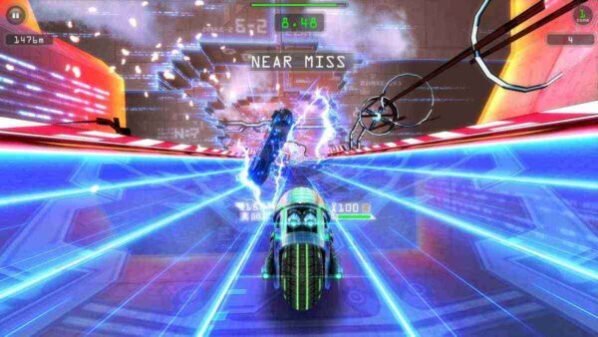 As the most reliable and precise transporter of the future, your task is no less than impossible! You must deliver a TOP SECRET package in time or the world will crumble.
So jump onto your super motorcycle and get used of your inhuman driving skills in an insanely high-speed-oriented experience. Overtake traffic, avoid crashes, activate power-ups, and reach your destination while climbing on top of the leaderboards!
6. CarX Drift Racing
CarX Drift Racing gives you a unique experience in the handling of sports cars in a simple and intuitive way. If you like to drift games then get ready to spend many hours playing this game. Use a separate handbrake button to start drifting.
The game features powerful sports cars with different environment surfaces – asphalt, grass, and sand with good graphics where replays are also possible. You can even post your replays on youtube.
In-game you can Win cups and earn coins, Unlock 40 sports cars and new tracks and you can also Compete with your friends in multiplayer mode. Time attack racing mode with worldwide ranking.
7. Crazi for Speed 2
Crazi for Speed 2, delivers the Mountain road of the Alps, the Coastal road of Venice, the Desert road of Nevada, the Muddy road of Amazon, the Asphalt road of Monaco, the City street of Tokyo, the Snow-icing road of Himalaya, the Night road of London, etc.
Select your favorite sports car from top manufacturers, Use Nitro, and chase on the road with your opponents. You can customize cars, Personalize your car with a painted appearance, labeling, and custom license plates. upgrading cars is also possible.
The game features good 3d graphics, sound effects, physics, and plenty of road tracks with a variety of cars.
8. Hill Climb Racing 2
Hill Climb is a very famous Racing game and this time it is the 2nd part of the game. It is a racing game with both online and offline adventure driving mode. The game Feature 20+ New Cars And Bikes, Upgradability, & Customization options.
9. Highway Racing Reborn
Highway Racing Reborn features many sports cars, power-up vehicles, chase police, and catching criminals. The game features vehicle customization, different locations, addictive gameplay, nice environment effects, etc.
10. Racing Fever: Moto
In this game, you can play with over 15 bikes with the option of upgrading the performance of each. The game has 4 different regions and four gang leaders defeat them and win the game.
This game support over 23 languages and you can change the camera angle in the game according to your need.
These are the 10 Best Racing Games For Android Under 100MB What are your favorite android racing games?……………..comment in the comment section down below.
See Next: 20 Best Offline Android Games Under 100MB
See Next: 10 Best Mobile Games Android & IOS Under 100MB