Best Android Dialer Apps, the name says it all. Some phones have a bad Dialer App and in some phones, it is good. People want a feature-full app with a lite interface, so they could get a good user experience.
In Playstore there are 100s of dialer apps and most of them are good for nothing or you can say junk or spammy, so in this article, I am providing you the best "contact apps" or "caller id apps" that will make your smartphone awesome.
These dialer apps have plenty of features like identifying caller IDS, call recorder facilities, call reminders, etc not only that with plenty of themes to choose from you can customize your dialer according to your need. Some dialer apps show photos of individuals with birth dates, events, jobs, etc.
Your search for a good dialer app ends here. In this list of the top 10 dialer apps, you will find a good option for yourself. Let's get started.
Best Android Dialer Apps & Contact Apps
Simpler Dialer
Simpler Dialer is a lightweight app that can manage your calls. Access to your call log for easy call initiation. This is one of the most secure contact application, as it does not ask for any unnecessary permissions.
The best thing is that this app does not have internet connectivity which makes it private, stable, and secure. Simpler Dialer can also create shortcuts in the home screen for any number. For Night Light protection it also has Dark Mode.
This app has over 40+ unique themes that you can use to make your phone more stylish and refreshing.
This app is fully open-source for development and provides customizable colours to its users.
Features of Simpler Dialer
1) Quick dial pad with smart contact suggestions
2) Block any phone numbers required
3) Speed dialling option
4) Can create shortcuts of any contact on the home screen.
5) Dark theme Available
6) The lack of internet access
7) Contains no ads or unnecessary permissions
8) Provides customizable colours.
Contacts+ – Android Dialer App
Contacts+ is a good dialer app, with a caller ID & spam block option. This app has a dialer, SMS, and call logs. The app helps to merge duplicate contacts in the phone.
It also comes with a good feature of birthday reminder, so that you will never forget the birthday of your loved ones.
This app is nicely customizable with over 80+ different themes and wallpapers.
This app also provides backup facilities to its users. So that you could recover your contacts, messages, and logs whenever you want and on whichever device you want.
Features of Contact+
1) Caller ID
2) Calls & SMS spam block
3) White / Dark Theme Option
4) Speed dial feature
5) Fast dialer search
6) Smart contacts
7) Birthday reminders
8) Merge duplicate contacts
Drupe
Drupe has all the fancy features of a contact app such as caller ID, spam blocker, etc. This app has a refreshing look and built, unlike other caller apps.
You can use this app directly to access your Facebook messenger, WhatsApp, SMS from inside the User Interface.
In this app, you can set to record calls of numbers, block unwanted numbers, set Animated pictures for outgoing calls, manage missed calls with missed call manager.
This application has already been downloaded over 10+ million times on the play store with a good rating of 4.2 with over 366,809 reviews as of writing.
Features of Drupe
1) Smart dialer
2) Inbuilt call recorder
3) Caller ID tracker & blocker
4) Add animated GIFs to your outgoing calls
5) Reminders based on contacts
6) Integrated call blocker
7) Missed calls manager
8) Use SMS, Whatsapp, Messenger, and calling from one place.
9) Multiple Language Support
ZenUI Dialer
ZenUI Dialer & Contacts is an all-in-one contact dialer and call log app. This app has a call blocker, speed dialer, smart search phonebook.
It is popular because it is made by the tech giant Asus and it is one of the most secured app compared to other local third-party dialer apps.
This app provides very smart password protection to its users. It even captures the image of an intruder secretly if he failed in an attempt.
Features of ZenUI Dialer
1) Call blocker for unknown callers
2) Smart search to find your contact fast
3) Speed dial with a click
4) Safeguard your private contacts
5) Smart linking the duplicate contacts
Simpler Caller ID – Top Dialer App
Simpler Caller ID is really a simple dialer app with all the simple features such as spam detection, call blocker, merging duplicate contacts, backup, group text & email, quick search the person b name or number etc.
There are over 40+ themes for this simple app which makes it a good option to try once.
Features of Simpler Caller ID
1) Caller id with Spam identification
2) Block unwanted calls
3) Merge duplicate contacts
4) Backup your contacts
5) Send group text & email
6) Quickly search by name & numbers
7) Over 40 beautiful themes available
Truecaller – Best Android Dialer Apps
This is by far the number one freemium caller id app on the play store. This has the best caller identification system powered and updated by the users themselves.
You can block SMS and robotic spam calls, make calls with its dialer, etc.
Truecaller has already been downloaded by 100+ million users with a user rating of 4.4 among 14,161,104 reviews.
You can use this app to talk to your friends and family in group chat just like you do on WhatsApp Messenger.
This app is also the best tracking app in the entire play store with billions of contacts to track from.
Features of Truecaller
1) Know who is calling before the phone rings
2) Use Voice calling like WhatsApp
3) Backup call history, contacts, messages into Google Drive
4) Block calls and SMS
5) Community-based spam reporting
6) Advanced blocking options for blocking countries & similar digit sequences.
7) Automatically identify and block spam SMS
8) Talk with your friends and family in Group Chat
Speed Dial Widget- Android Dialer Apps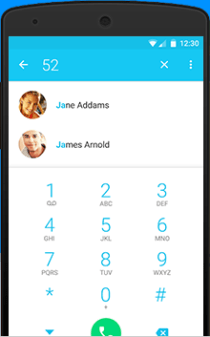 Speed Dial Widget app is not for everyone, it is a unique app on its own. Those people who had a hard time searching the Contacts, and Messages, now can directly call and Video call, from the shortcuts from the home screen.
This app can be convenient for people who have less knowledge of smartphones.
In this app, you can make and restore a backup, choose the app colour and theme of your need, change contact photos for identifying the individual, make WhatsApp like groups, etc.
Features of Speed Dial
1) Just single tap Call, SMS, WhatsApp message-call, etc. through the widget
2) Make groups of Family, Business, Friends, etc and place them on the home screen
3) Change the shape of the Contact List photos.
4) Choose app colour, & theme
5) Backup and Restore app data
OS9 Phone Dialer
OS9 is a replica Dialer of iPhone OS9 with a similar interface you will get the vibe of an iPhone in your android device.
This app has fast speed and a very simple as well as an easy user interface which makes it a contender in our list.
Features of OS9 Phone Dialer
1) Customize the theme as it suits you.
2) Phone X Style iDialer Theme
3) Full-Screen Caller ID and T9 Dialer.
4) Dialer Contact and Recent Call.
5) Awesome Graphics like OS 10 Dialer
6) Select an image of your choice for the background.
Eyecon Dialer
Eyecon Dialer is a good option if you want to identify calls and see photos, names of unknown calls, and contacts.
The app is already downloaded over 10+ million times and growing quite well with a user rating of 4.5 with about 1/2 million reviews, this app is a must-try for anyone who is searching for a good dialer app.
Features of Eyeco Dialer
1) Unique reverse lookup feature, connect to their true ID including Facebook photos, and more.
2) Chat with anyone directly on Whatsapp, Facebook, etc.
3) See pictures of people in the contact list
True Phone Dialer – Android Dialer App
True Phone has a fast highly customizable interface to quickly access your recent calls, contacts, favourites, and groups.
This app shows big size photos of people when calling, you can also see information like the job, upcoming birthdays, and notes regarding the individual.
There are many customizable designs and appearances available in themes including Google, iPhone, Huawei, Meizu, and simple buttons with a very common feature of Call Recording.
Features of True Phone Dialer
1) Photo of the caller
2) Information like job, birthdays, and notes
3) Customizable design and appearance
4) Many styles to choose from Google, iPhone, Huawei, etc.
5) Call Recording button
6) Recent calls grouping
7) Additional Theme support
8) Import/export your contacts
9) Share your contacts as text or vCard
10) Easily access functions you need
Final Thoughts: Best Caller ID App
I have made this list after hours of research and reading. All the Dialer Apps mentioned above are good but the personnel favourite that I use on daily basis is the Truecaller.
Some Dialers mention on the list are very famous and among the most downloaded apps and some are downloaded less in number but they are also good and are worth trying.
All the apps are for people of different tastes, some apps will fulfil some user's requirements and some will of others. So I leave it to you to choose an Android dialer app according to your needs and requirement.
Feel free to comment in the section down below and tell us which android dialer app suits you and if we have missed any good dialer apps then you can also mention that in the comment section down below. Share this with your friends and family on social media.
See Next: What is Potato PC | Potato Computer Explained in Detail